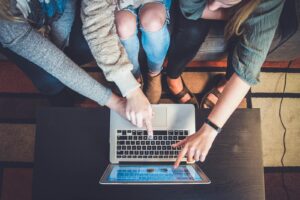 In this tutorial, we'll take you from start to finish through the process of building a stunning blog. On Blogger.com and WordPress.com, we will be focusing our efforts the majority of the time. Free blog hosting providers allow you to simply create a blog for nothing by visiting their websites. Feature adoption is encouraged, with design templates, color customization, picture selection, and font selection being among the suggestions made. Free blog hosting services are ideal if you want to start a simple, easy blog about your interests and hobbies.
Choosing a topic for your blog post is the very first step. Make a choice on a specific subject and follow through with it. On a blogging site, it will be difficult to keep up with everything that happens. For example, instead of writing about the Honda car, you may write about vehicles or online guidance, which is similar to what I am now doing.
A blog is a type of website that often includes commentary on the blogger's interests or other people's ideas. Blogs first emerged as an online medium for personal journaling, but now they are used by everyone from journalists to businesses. To create your own blog, follow these simple steps:
1. Create a free blog account with a blogging site such as WordPress, Tumblr, Blogger, Typepad, or LiveJournal.
Blogger and WordPress are the two most widely used free blog hosting services accessible on the internet today. The websites Blogger.com and WordPress.com are two examples of places where you may find them. Make sure you don't get confused between the two domains, WordPress.org and WordPress.com; I'll explain the difference in a later section of this article.
2. Create a user account and then follow the on-screen instructions. Choose a design template that will be a wonderful fit for your website's overall look and feel. Blogger's and WordPress's control panels are both very user-friendly to browse through. If you are turned off by this, please don't be. Both of them, on the other hand, provide a comprehensive library of default templates. Decide on a template that is appropriate for the information on your blog. If you're creating a blog on volleyball or tennis, for example, you may include a sports motif into your writing.
3. Come up with a title for your blog. Because your header is the first thing that visitors will see when they arrive at your blog, it will have a huge influence on their first impressions of your site. I recommend that you come up with something unique and different that will capture the attention of individuals who are going to be seeing your piece of work as a result of this.
Following that, you should have a sufficient amount of material on your blog, such as articles, images, and videos (or links to other websites). If you are not the original creator of any articles or photos that you put on your blog, you must provide proper credit to the person or website who created them.
Things To Include in Your Blog
The best blog posts are the ones that are interesting, make people want to share them, and are focused on a topic your readers are interested in. There are many things you can do to achieve these goals.
Many people are unfamiliar with the blog world, and many blogs are not successful. But what is it that gives certain blogs an edge over others? What makes some blogs seem more interesting than others?
It is not just the blog content that must be compelling, but it is also about including some of these things in your blog to make it stand out.
Blogging is a great way to share your thoughts and ideas with others. If you're looking to start a blog, here are a few things to take into consideration: What will you blog about? How often will you blog? Will you use video blogging? Will you post photos as well as text onto your blog?
How To Make Sure That Your Blog Is Seen by The World
The first step to blog promotion is doing your research. Read blog posts by others on the subject, research some of the top sites that promote blog content, or find some successful bloggers on social media. Now you'll know what does and does not work for them. The next step is to optimize your content for search engines. This means making sure that the title of your blog post has keywords in it, as well as creating a meta description with keywords.
Everybody wants to see their blog at the top of the search engine. There are many ways to make sure that this happens, and it is best to use a variety of them in order to get positive results. To start, you need to optimize your title tags and meta descriptions, and add keywords to all of your posts. This will allow people searching for what you have written to find your article easily. You also want to build backlinks by other bloggers linking back to your content.
Blogging takes a lot of time and effort, and if you're not putting in the work to promote your blog posts, then no one will ever see them. There are so many ways to get your articles seen by the world: you can post them on social media sites like Twitter and Facebook, submit them to popular blogging sites for free, or even create a YouTube video summarizing the article.
In conclusion, blogging is a great way to share your thoughts with the world. Start by taking advantage of free blogging platforms, like WordPress, Google Blogger or TypePad.
By writing about what you know and sharing it with others, you are able to make an impact on the world. One of the most important things to keep in mind when beginning a blog is that it takes time. So patience is key!