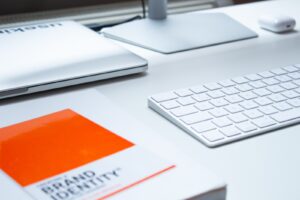 In the days before the Internet, official corporate letterhead was used for all correspondence, both external and internal, to ensure consistency. A fast handwritten message, an invoice, or formal communication would all be typed on branded bond paper and put in a branded envelope, and it would almost always contain a business card with the company's logo printed on it as well. Written messages on non-branded goods were strictly forbidden, and it was impossible to project brand integrity and impression without doing so.
Let's fast-forward to today, when email accounts for 87 percent of all corporate communications. The development of a brand strategy and accompanying components such as wordmarks, logos, custom typefaces, style sheets, and so on continue to cost thousands upon thousands of dollars for businesses. Despite the fact that emails account for the overwhelming bulk of business interactions, organizations do not frequently enforce branding on emails sent out.
If you do this, you are essentially doing the unthinkable: sending out all messages on plain white paper, so negating the investment in branding aspects and losing out on a chance to build the brand in the eyes of consumers, partners, and prospective customers.
It will be discussed in this article the objectives of email branding, the rationale for doing so, the anticipated effect, and perceived impediments to implementation. Also covered are best practices for implementing an email branding protocol throughout an organization, as well as technical tips for creating eye-catching email signatures and disclaimers that incorporate photos and other dynamic elements without placing a strain on bandwidth and email storage requirements.
Recognizing the importance of email branding
What is the significance of email branding? Companies and individuals alike want their emails to create a positive first impression on their recipients. People are busy, and including a memorable branding feature in an email allows the message to stand out in the recipient's cluttered inbox, which increases the likelihood of it being read. The style and feel of communication, whether electronic or paper-based, should be uniform across the organization and implemented effortlessly across all departments. A company's image and awareness may be expanded via the use of email, which also demonstrates its professionalism and the fact that its brand is being carefully and continuously developed.
A uniform and visually appealing manner for including contact information in email conversation is made possible via the implementation of email branding policies. Information technology departments may implement custom signatures and rules-based administration of brand aspects depending on the receiver or recipients, ensuring that the appropriate message is sent to the appropriate audience each and every time an email is dispatched.
Despite the fact that all of these elements sound positive and simple to implement, several perceived barriers to adoption have prevented companies from implementing email branding policies, fearing that it will be too expensive, require too much bandwidth, or necessitate the writing of extensive code. I want to clarify some of these fallacies and provide a best practices approach to email branding in the sections that follow.
When building brand aspects for email, there are a lot of technical concerns to bear in mind, the most of them are related to management and accessibility. Making certain that readers will get an appealing message regardless of the email software they are using, or that their inboxes and mail stores will not be flooded with promotional email, are examples of these considerations
Using email branding at the server level is a good idea.
Rather of relying on individual senders, modern technologies are installed at the server level and conform to a rules-based architecture that removes them from the picture.
Incorporating the signature at the server level gives administrators more control over the branding of all communications, preventing anybody from messing with the corporate message. Leaving users to make their own signatures would result in uneven branding, the risk of mistakes and a high likelihood of an incompetent presentation to clients.
It also guarantees that every mail, regardless of whether it comes from a mobile device such as a Blackberry or a Web-based client such as Outlook Web Access, receives the necessary disclaimer or signature when sent from the server. Finally, having control at the server implies that changes can be made in a single location rather than having to distribute an updated signature to a large number of Outlook clients.
There are many advantages to utilizing inline CSS.
Style components in Web pages are separated from the HTML code using Cascading Style Sheets (CSS), which were created to do this. This may be accomplished using either embedded CSS, in which case the styles are specified at the top of the page, or external CSS, in which case the styles are defined in an external file and referenced to from the element of the HTML text, as described above.
Because it makes it relatively simple to fully alter the look of a Web page by just updating the style sheet, this is a significant benefit. However, when used with email, these approaches may be quite unstable, especially when the message is being read by a Web client, resulting in the message seeming completely different from what the sender meant it to. Numerous email clients, in fact, are designed to take away any CSS that is either externally linked or embedded inside the element being sent.
An HTML element may have its CSS attributes defined right inside it using the inline CSS approach. Designing an email style in this manner increases the likelihood of the design being preserved to the maximum extent possible, and practically every HTML-capable email client supports this format.
Inline CSS is perhaps the least flexible method of employing CSS, since it needs the style to be specified separately in each element, resulting in additional code and the need to update styles in several locations rather than just one. It is, on the other hand, the most dependable. The use of inline CSS in HTML messages is required if you want to design your HTML messages effectively.
When employing photos, there are few things to bear in mind.
When using photographs in a signature, there are several unique aspects that must be taken into mind. The smallest possible picture size, both in terms of file size and physical dimensions, is the optimal choice for every image. A huge corporate logo is something that no one wants to have to download and keep, particularly if they are using a smartphone or other low-bandwidth connection.
It's important to remember that while dealing with prospective new clients, that many consumers will not open the message and will instead read it in the preview or reading window. It's quite likely that the message will be erased if the first thing they notice is a prominent logo, rather than the message's actual content.
When seeing a message preview, just the first few words are shown. Use those initial few lines wisely, especially if it's a sales pitch, and don't squander them with a giant picture at the top of the page.
Additionally, ensure that the message does not seem shabby if the pictures are not included; newer versions of Outlook by default do not display photos unless the reader has given them permission to do so.
Finally, be aware that certain spam and antivirus filters, particularly the less sophisticated ones, may be designed to reject messages containing specific kinds of attachments.
With the addition of the fact that certain email clients may not display an animated GIF and instead may show just the first frame, animated GIFs are vulnerable to the same concerns as static GIFs as stated above. This is especially true in the case of Outlook 2007.
Aside from that, the fact that animated GIFs are made up of numerous frames implies that they will be much bigger in size than static GIFs. It is also crucial to be conscious of the potentially distracting nature of an animation, and to consider if it is really acceptable for a business email in the first place. The majority of the time, you should avoid using animations.
Keeping your logo consistent across email clients
The readability of signatures and the preservation of brand identity across an array of email clients are never guaranteed, but communications between most HTML-capable email clients such as Outlook (at least prior to Outlook 2007) and Outlook Express will generally reproduce the branding and signature in their entirety as the sender intended.
In contrast, when answers are exchanged between the sender's and recipient's inboxes, and depending on how the respondent's reply separation is arranged, attractive email stationery may potentially begin to seem deformed as graphics migrate down the page and get recessed with each response. It is also possible that certain clients may only be able to read the plain-text form of a message, so bear this in mind while creating the signature.
Outlook 2007 has a set of issues that are unique to it. It makes use of a different HTML rendering engine than any of the previous versions of Microsoft Outlook.
Conclusions/General Recommendations
Some best practices methods to email branding are presented below, along with a few basic tips for ensuring that installation and distribution are effective.
Keep things as basic as possible. It is far more likely that the receiver will see what was meant if the message is kept simple. It is also a lot less likely that the message would be mistakenly classified as spam if it is kept simple. It's important to include an embedded link in your sales message if you're going to utilize a fancy design. This will enable the receiver to see the message in a browser if the email client doesn't display it properly. Check to see that it appears okay in both plain text and in HTML. You should send yourself test mails and read the message in as many different email programs (both desktop and Web-based) as you possibly can. Make every effort to code the signature by hand if at all feasible. Tools like as Dreamweaver and Word have the potential to make the code more convoluted and bloated than it has to be. Instead of using embedded or linked CSS, inline CSS should be used. Scripts should be avoided since they are virtually guaranteed to be stopped by an antivirus software. Avoid using Flash animations, since not everyone has the Flash player installed. Furthermore, they will not be supported by Outlook 2007. It is possible that your company's email branding is crucial. If you adhere to these criteria, your email will serve to strengthen your brand.