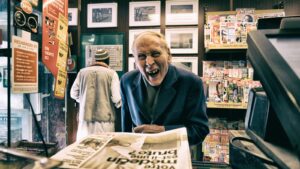 It may seem like common sense to offer the customer what they want, but we know how challenging it can be to please everyone. It's not surprising that sometimes we get it wrong and upset a customer. To avoid this, we need to do our best for the customer and then move on with our lives when there is an unpleasant encounter. The customer will always be right in the end, because businesses are trying their best to satisfy them.
Nobody likes to hear complaints from customers, but customer feedback is an essential part of the business. It lets you know what your customers need or want. If you address their needs or make changes based on their suggestions, you are more likely to retain them as loyal customers. If not addressed, these disgruntled customers might spread negative word-of-mouth about your company to potential customers and hurt your business in the long run.
Give the customer what they want! No matter how ridiculous it is. If you don't, and they return their purchase and another store picks up your customer instead, your sales will take a hit.
We've all heard the expression "The Customer Is Always Right," and as buyers, we believe it all of the time. So why does the phrase "The Customer Is Always Right" disappear when we're in the process of selling something? Okay, I understand that this is not the situation for all vendors, and as sellers, we always do our best to assist a buyer when anything goes wrong.
One of the difficulties of being an online seller is that we can never see the face of the person who is purchasing the item, and no matter how well we list the item, write the description, and take great photos, we will never be able to replicate the experience of having a one-on-one conversation with the buyer. Then, after the item has left our possession, it is at the mercy of the carriers, and even though we may have placed it in a safe, delicate location, it might travel hundreds of miles, and in some cases, thousands of kilometers, and even over international borders without anything happening. Moreover, as opposed to being able to go into the store to see and demonstrate, the worst-case scenario is emails and perhaps a phone call. This is one of the reasons why you should never, ever respond to an angry email from a client immediately after receiving it. You should take some time to relax, prepare a drink, and re-read the email. Replace your seller's cap with a buyer's cap, and think about how you would react in the event that an item was delivered in the manner described above.
It has been many years since I have attempted to provide excellent customer service; was the client always correct… who knows, but they have been satisfied on each and every occasion. In this essay, I'd like to talk about two tales that have caught my attention. The first one is about a bottle of perfume that I had previously sold on E-Bay. It was brand new and still in its original packaging. The buyer purchased it, paid for it within minutes, and I sent it out the same day, using a signed-for delivery service. I provided positive comments. The next day, I double-checked to make sure all of the packages I'd sent out had arrived safely, and hers did. Now, I understand that individuals do not always provide feedback, so when she did not, it did not concern me, and upon checking, she had never done so, so by the time a week had passed, I had completely forgotten about the transaction. As a result, I was taken aback when she wrote me four weeks later to ask, "Where has my item gone?"
After checking my records and notes, I discovered that she had signed for it some fours ago. Keeping the phrase "The Customer Is Always Right" in mind, I responded to her message within My Messages, and did not ignore her question, but instead said thank you for contacting me, and sorry that there may have been a problem with her item, but that I had checked and informed her of the dates, as well as copying a picture of her signature. In addition, I inquired as to whether she had purchased a comparable thing from someone else. Within minutes, she replied with a heartfelt apology for having written me in such a rude manner, and she agreed that I was correct in that she had purchased the identical thing from someone else and that it was theirs that had not arrived. Is it always true that the consumer is right…. This time, no, but everything worked out OK.
The final one was a charity auction in which I sold certain objects, one of which was an old amplifier, to raise funds. I put it on the market, and it sold after a while. I then had to package it, but that is a different tale since it weighed about 50 pounds and had handles, which made it difficult. Whatever the case, DHL was excellent, and the client received it within 20 hours. I provided positive comments. After two days, there was no email, no My messages, but there was a phone call. Even though I have my phone number posted all over eBay, it is still a surprise when you get a call. And I could tell by the tone of his voice that something was wrong. He didn't sound angry; rather, he sounded shaken. There were flames coming out of the amplifier!!!!! Not good… But he chuckled and added, "Don't be concerned, I anticipated it to happen owing to the age of the amplifier, which was 45 years old and in excellent condition."
It was his willingness to give me images and other evidence of the after effects that I accepted, which he promptly did. It didn't seem to be a good idea. He has now volunteered to ship everything back to me, but he would prefer a reimbursement in exchange. So, I offered him a complete refund and ordered him to throw away the amplifier, explaining that the expense of returning it was not worth it. This time, the consumer was correct, and he provided positive comments once again.
It makes no difference if the Customer is correct or incorrect; what counts are how we deal with them and treat them in the same manner in which we would want to be handled when we are dissatisfied with an item.