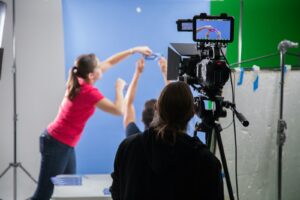 Wherever you turn, you'll find marketing experts claiming more and more that video is where it is at. Video is being used on websites to get more attention from users, and videos can be one of the top ways to drive traffic to your website. One of the things that you can be pretty sure about is the fact that video marketing is here to stay. This is not just some fad promotional technique.
Video marketing is something that can be outsourced but of course, as you may have guessed, it can be much more cost-effective to do it yourself. It might seem like a daunting task at first, but in reality, creating and promoting videos is not really that difficult. Also, these days, there are plenty of apps and software programs that can do most of the work for you. All you have to do is set your mind to it, and it can be done.
It does not have to cost you a fortune in order to advertise your business with video marketing. Reaching your target audience has never been easier than with video marketing, and you will find that your followers and customers will enjoy the ability to more fully understand the product or service that you are pushing, and that is all made possible through video. Generally speaking, many people would rather watch a video than read an article.
The first thing you want to do is decide what it is that you actually want to accomplish with your video. One of the best ways to do this is to actually go to YouTube and search for the particular niche that you are promoting. Try to find out which videos are currently the most popular in this particular niche. Then, all you have to do is try to duplicate what the most successful marketers are already doing.
There are a variety of different types of videos that you can create. Some of the more popular categories would include personal testimonials for products or services, product reviews, and how-to videos on any subject that you can think of. You might want to find a specific topic within your niche that has not already been covered. This will give you a chance to be able to go up against less competition when ranking your video.
Once you have created a video, you will then want to optimize your video listing so that it ranks higher on YouTube and other video search engines. It is important to have a good title and description in your listing. Make sure that you are telling your audience exactly what your video is about but at the same time, you will want to feature keywords that are relevant to the product or service that you are promoting. Your title and description should also be compelling so that the user is enticed into watching your video.
Next, you will want to make sure that there is a call to action in your video and also in the description of your video. After all, the main idea here in video marketing is to get users to become your followers and to hopefully, eventually, purchase your products or the products and services that you are currently promoting.