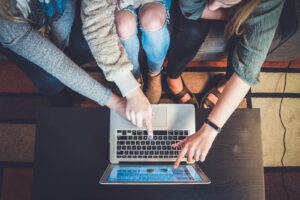 Affiliate marketing is not a get rich quick scheme. You have to work at it. You also need multiple streams of income. Depending just on one stream such as selling e-books or AdSense may not work for you.
There are some affiliate marketers who have made thousands of dollars. Few of them will contribute their success to just luck. Most of them worked hard to achieve their success. You have to be patient and if you are, and you stick
with it, you can reach your goals.
In affiliate marketing, you need a good website. Decide on the theme or niche for your website. Look for the products or services that fit your theme and decide which ones you are going to promote. This will help you in the overall design and layout of your website. You should have a domain name. When deciding on your domain name, look at the products or services you are planning to promote. It is generally thought that a domain name with keywords related to the products or services you are promoting may get you more traffic.
There are a number of domain extensions: .com, .info, .org, and so on. The most popular is still .com. Find a web hosting service that will fit your needs. If you are planning to publish a number of sites, you will want to look at the amount of bandwidth, storage capacity, and other features being offered as well as the price. Some web hosting services will allow you to have a maximum, minimum, or unlimited number of domains on one package. However, it may be best to spread your web sites over a number of different IP addresses if you intend to link them to each other.
Now that you have decided on your theme or niche for your website, know the types of products or services you want to promote, and what hosting is available at a price you can afford, you can start designing your pages. If you have no experience with HTML or PHP, you have two options: You can hire someone to design and program the website for your; or You can purchase a software package such as XSitePro, which makes it easy for you to publish your website.
Another alternative is to purchase niche web sites that have been coded. Most come with private label rights (PLR) that you can use to populate your website with its initial content.
If you decide to build your own website by purchasing a software package such as XSitePro, you will also need to learn how to upload your files to your web host. Your hosting account will have instructions on how to do this.
When you build your own website, you are in control of it. You can make changes anytime you want. If you have your website designed by someone else with a software package that requires extensive knowledge of HTML, you will have to learn it to be able to maintain your site. It is important that your site be easy to navigate. It is also very important that your website have quality content to attract visitors.
Visitors come to a site to be informed, and if you do not provide them with the information they need, they will leave. Interesting articles related to your theme will bring visitors back to your website. Add links to the products you are promoting. You should create pages for the products you are promoting with information regarding the product and its use.
Visitors will be more interested in buying if they can get a feel for the offer. If you have a site that is simple and easy to navigate and have a professional feel, your visitors will be inclined to stay longer. Since you are marketing products, you do not want to have a lot of banner ads that are not related to the products you are promoting. You do not want your website visitors to click on those instead of the ones that will pay you.
Too many banners are distracting, also. Once you have your initial site published, look at it again. Tweak it often by adding new content and changing the way the ads look on your pages. Test placement of the ads to see which works best for you. While you are doing this, you are learning valuable information to help you with your next website. Be patient and work, you will be successful.