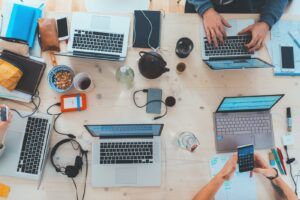 Affiliate marketing is a good business for a person who wants to start a home based business. It is good as a part-time business for someone who works outside the home, and can become a full-time business with patience and diligence. A number of people start affiliate marketing businesses every day. There is still room for you if you work hard and find the proper products to promote for your business.
As an affiliate marketer, you do not have to have your own products. You refer visitors to your website to the merchant's website, for them to buy the product and earn a commission. To be successful, you need to choose a good product or service to promote, and you need to create a marketing plan to promote and to sell the product.
There are a number of affiliate products and services to promote. There is no one product or service that is going to make you millions of dollars. What works for one person may not work for you. You may read claims of how a marketer made thousands of dollars in a day promoting a particular product. That was probably the person who created the product and had other affiliate marketers promoting and selling the product. They made a commission from the number of sales they generated, but the creator of the product made the most money.
Determine what affiliate product is good for you by researching those that fit the theme or niche of your website. Join affiliate forums and learn about the various programs. You will get ideas and suggestions from experienced marketers. However, remember you have to promote the product or service and if you are not enthusiastic about it, you may not be successful. There are a number of directories on the Internet which lists affiliate programs. You can also find affiliate products or services by searching Google for a particular product and looking at the websites that come up in the search.
Third party affiliate networks are another source. Affiliate networks such as Linkshare, ShareaSale, and so on have thousands of merchants who are offering affiliate programs. It is free to sign up for the programs. You do have to meet the merchant's requirements. There are some that you can automatically join. These services also track the sales of the affiliate marketer and pay out the commissions for the merchant. They provide the marketer and the merchant with reports.
As you look through the various program, look at the quality of the products and services being offered. Your goal is to get your visitor to click on the merchant's banner or text ad and to buy the product. I emphasize buy the product because that is how you get paid. There are other ways to earn income as an affiliate, such pay per click ads like Google AdSense. To promote the product or service, you have to put yourself in the customer's place. Is it really something you would buy? Can you convince others to buy it?
You will also want to look at the merchant's history to determine their previous and current sales data. The sales data will give you an idea of well the product or service is doing in the marketplace. You want to promote products that are reliable and are available. Look at the compensation plan. You want to determine how much money you will be able to make promoting the product.
Most merchants will have tools available for you to use in promoting their product or service such as banner ads, text ads, data feeds, audio, and video. You can choose to use the media that best fits your website. Look at your website and the products and services that are available for your theme and decide which is best for you. Gather as much information as you can and move forward to start your successful affiliate marketing business.