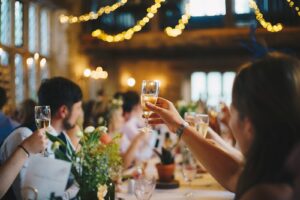 Successful online marketing campaigns rely on a number of different tools and tactics to generate an audience and convert them into buyers. The time commitment necessary can feel overwhelming at times, but there are many benefits to marketing your business on the internet. One such tactic is guest blogging. Guest blogging is a great way to tackle one aspect of your online marketing campaign at a time, and build up your expertise in the process.
As more and more people go online for their daily dose of news and information, it has become imperative to have a presence on the internet. With so many websites offering blogs, article submissions, or social media profiles, there are plenty of opportunities for you to get your voice heard. The key is to find which are the best sites for your business or industry.
Did you know that guest bloggers have a much higher chance of getting their blogs noticed when they publish on other people's sites? With the ever-growing online market, it can be difficult to build up your blog without starting from scratch. But by guest posting on other blogs in your niche, this is an easy way to build up a strong following before you even start!
Without actively seeking out methods to make your blogging more entertaining, it may rapidly become tedious and unpleasant to complete the task at hand. Using guest blogging as a means of doing this is the most successful strategy, and this marketing tactic is increasingly being acknowledged as one of the most efficient techniques of making blogging work for you in a substantial way.
When you work as a guest blogger, you will essentially be traveling around the Internet, stopping at various sites to write an article and engage with new readers, all while earning income. It is possible to attain success in any subject, regardless of your current status as an expert in your profession, even if you do not have a huge email list or millions of readers.
During your networking efforts with other bloggers, you will realize that they are also looking for ways to make their blogs more engaging while also increasing their earnings. Ask if they would be interested in having you write a guest post for their website. Ideally, they should be issues in which you have some experience, so that participation is advantageous for both of you. Give them a basic idea of what you would want to write about if you were to be a guest blogger on their site.
What To Write As A Guest Blogger
Guest blogging is a great way to establish yourself in the blogging world, grow your readership, and get free publicity for your company. Blogs are a great way to network, establish connections with businesses and people you might not have been able to find otherwise, and provide a platform for opinions that may not otherwise be heard.
If you're looking for some inspiration when it comes to guest blogging, here are a few tips:
-Do your research!
Guest blogging is a fantastic way to build your own personal brand as well as provide valuable content to the host site.
A guest blogger is an individual that publishes articles on another person's blog or web site.
The first step in becoming a successful guest blogger is research. You want to be careful with how you present yourself and what you say, so this will take some time and effort.
Here's a great opportunity:
Writing guest posts can be both fun and profitable. As a guest blogger, you get the chance to share your knowledge with a whole new audience. If you're looking for a way to boost your blog's traffic, guest blogging may be the perfect solution for you.
Guest blogging is like any other form of media, where you give up some control in exchange for exposure.
Write a four- to five-hundred-word blog piece and present it to them in the method that you've agreed upon once you've identified what would work. Your email address will be included in a notification when the article is published; thus, please be prepared to answer inquiries and respond to comments left by readers when the time comes.
You will almost certainly become a prominent expert in your field, even if you are not now considered as one in the immediate future. When we talk and write on our topic, we quickly become known as the subject's foremost expert. With the publication of a blog piece on your area of expertise, you will be one step closer to attaining your objective.
If you guest post on a large number of websites in a short period of time, you will be able to expedite the process even more. Ask each blogger to indicate more blogs that they feel might be of interest, and then contact the owners of these additional blogs as soon as you can after getting their suggestions. It is important to maintain the momentum of your blog tour as long as possible after it has gotten under way.
Furthermore, whether the websites on which you are guest blogging already have a significant following makes little difference. The passion you will bring to our effort, as well as the enthusiasm of the other bloggers and readers, will all contribute to gradually increasing the number of visits over time. Make sure to involve your Facebook friends and Twitter followers in the discussion as well. Using social media channels to promote your blog tour will have a significant impact on the success of your tour. Increasing the number of people who read your content, the number of people who subscribe to your email list, and the number of people who purchase your products and services are all objectives of your marketing strategy.
Maintain your focus on the fact that the purpose of launching an internet business is to free up your time and money so that you may live the life you choose.
In conclusion, guest blogging is a great way to garner more exposure for your brand and help build your online marketing campaign.
Guest blogging is a great way to reach out to new audiences and create valuable connections with other bloggers in the field. This process can take time and effort, but if you're willing to put in the work, it will pay off big time.
I hope this article has given you some helpful information about guest blogging and how it can enhance your online marketing efforts.