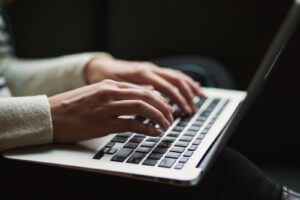 In its basic form, blogging is just an electronic extension of a diary; a place to share your thoughts. In the case of a personal diary, you are only sharing those thoughts with yourself but, through blogging, you can share your thoughts with the entire world. However, when it comes to blogging as a form of Internet marketing, it can be used as a way to describe a product or service that you intend to sell to your audience.
There is personal blogging and then there is professional blogging. What you want to blog about in your personal time is completely up to you but if you have a commercial endeavor in mind, and you would like to earn some money through the Internet, then you will want to gear your blog toward what it is that you are trying to sell (or re-sell) to your audience.
It is very simple to get started with blogging. In fact, you don't even need to own your own website. You can use WordPress.com or Blogspot.com and other websites that allow you to sign up for your own free personal blog. Of course, these types of sites do have restrictions and if you really want to go all out, do your own thing, and become the next blog gazillionaire, you will probably want to get your own website, where you can run your blog in any manner that you choose.
If you do choose to get your own website and start your blog from there, the first thing that you will need is a domain name and then a web host company. You will want to spend some time thinking about what your domain name should be and how you will use it for your future intentions. For instance, if you decide that your focus is going to be on paperweights, then you might want to try to find a domain name such as all aboutpaperweights.com, or something similar.
When it comes to blogging, there are various terms that you should become familiar with, such as plug-ins, permanent links, themes, URL addresses, etc. One of the easiest ways to start blogging on your own is to get a free account on WordPress.com, but you can also get your own domain name and start your own website. Then you can use the WordPress CMS (content management system) in order to have an easy-to-use control panel for running your new website. WordPress is probably the most popular CMS out there, and you will find that there are thousands of plug-ins as well as tips and tricks that you can use in order to make your WordPress website look like a million bucks and perform like a superstar, as long as you do everything just right and follow the tutorials that are provided by the blogging superstars of this world.
Once you get a domain name, and you have signed up for web hosting, you can go ahead and get your website started from scratch. At this point, you can call it a blog or a website or a thingamajig, as it doesn't really matter what it is called as long as you are able to provide a great amount of quality content for your readers. With blog marketing, it is all about engagement with your readers. Therefore, you are going to want to spend much of your time on creating content that will keep your followers coming back to your website time after time.