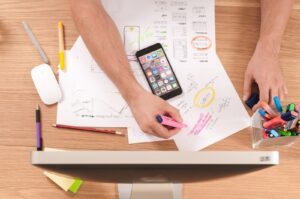 One of the main goals in content marketing is to get good ranking in the search engines. In order to rank your webpages higher in the search engine results pages, most marketers resort to some type of SEO (search engine optimization). In order to rank higher in the search engine results pages, these days, search engine optimization mostly focuses on creating good content. This means that your webpages need to be user-friendly and pertain to a subject that can at some point be monetized.
So, in order to perform good SEO, you need to basically forget SEO. You need to look at the big picture. Write and share some amazing posts, and you will naturally get links that are pointed toward your content. In turn, the search engines will see this content as being important and will rank it higher in the search engine results. When it comes to making a positive impression on Google and attracting more traffic to your website, there is nothing more important than creating a large amount of engaging content on your website.
In its purest form, content marketing is nothing more than creating useful and engaging content that will help Google and other search engines find your posts on your website and rank those posts and pages higher in the search results. In reality, this is only part of what content marketing is all about. When you are building content, you are also building a readership loyalty on your website and in that way, you can get readers to trust your content and to come back to your website time and again in order to read your thoughtful posts.
Your content should show that you are knowledgeable and share a point of view that is favorable to those who are an established authority on the subjects that you are writing about. If you can manage to get enough of a following, you can become an authority on your subject and be considered an expert in your field. Once you have attained this goal, it will be possible to influence your audience and, possibly more importantly, what they choose to buy.
Once you manage to build trust with your audience, and you have them coming back time and time again, the search engines will pick up on this, and they will then consider your site to have value and therefore, they will rank your pages and posts higher in the search engine results pages. The main thing to remember is that you need to continually provide value to your users. Every time that you post something on your website, you should make sure that the information is interesting and useful and, generally speaking, something that you yourself would consider to be good information.
Inevitably, no matter what you decide to write about, there is probably already something out there on the Internet about that subject. Therefore, it is your job to try to take a different angle and approach the subject from an alternative point of view. Try to find things about your subject that have been possibly overlooked in the past. Or, take one aspect of the subject that you are writing about and write about it in detail. The idea here is to come up with something that has hopefully not already been talked about in numerous other webpages on the Internet.