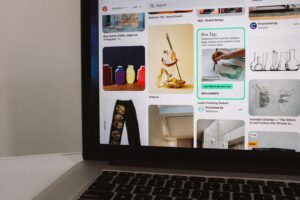 Many marketers have a tendency to ignore the benefits of Pinterest. Pinterest is a platform that anyone can use. All you have to do is create an account and then set up your sections of your account that are called "mood boards". This is a collage of images, videos and other items that you have found on the web that you consider to be interesting. You categorize these items on "boards" within your Pinterest account.
The idea is that once you have saved these pins, you can then share them with other people on the web, and especially those who follow your individual boards. All you have to do is surf the web and then find things that are interesting to you and pin them. You can also re-pin other people's stuff, 'like' their stuff, and share their stuff. Hopefully other people will find your stuff interesting and share your stuff as well.
Pinterest has a search function that makes it easy for you to find items that you would like to pin or search for users who share your interests. Unlike Facebook, Pinterest is not actually a type of social network where there is a lot of interaction. Instead, it is a place where you can collect and organize your ideas and get inspiration from other users about the types of things that you're interested in. When you do find things that you are interested in, it is helpful to go ahead and follow the users and their boards that relate to the topic that you are concentrating on.
This is a platform that is not quite as popular as Facebook or Twitter, but nonetheless, there are more than 100 million users on this platform and so it cannot be ignored. Most of the users on Pinterest just happen to be female so, if you happen to be promoting a product or service that women flock to, then Pinterest can be especially powerful.
The main goal in Pinterest marketing is to get your offers out in front of as many eyeballs as possible. So, for example, if you happen to be promoting flowers, then you will want to create a Pinterest board that features lots of images of flower bouquets and anything related to the floral industry. If you have pictures of flowers on your website then you can post the pictures on Pinterest and have them linked right to your website and this is a great way to get Pinterest users to follow your links.
In the Pinterest platform, you can choose "pin from the web" and then choose the URL on your website that contains the image that you would like to pin and under this there is a place that says "pin from". That way, if someone sees the picture on your Pinterest account and then clicks through that picture, they will end up on the webpage of your website that contains that picture. In essence, this is a way of turning your Pinterest boards into an actual online store. People browse through Pinterest looking at pictures and when they click on a picture that they like they can be taken right to a shopping page on your web store.