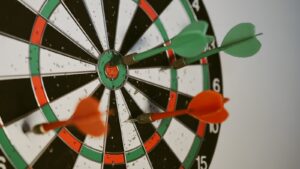 It can be hard to know what your objectives are, or what you should be aiming for, when it comes to marketing your website. It's important that you have an understanding of what you want your customers, clients, and potential clients to do when they come to your site. Your goals will vary depending on the type of business that you operate.
The first objective is for potential customers to find you online.
Website marketing is of the utmost importance, as it is the most direct way of reaching your customers. For this reason, your website must be interesting and engaging to draw visitors in to read your content. If you write about topics that are of interest to them, they will invest their time on reading what you have to say and will come back for more.
As a company that is becoming aware of the importance of an online presence, the first step is to establish an online marketing strategy. This involves deciding on your best course of action to achieve objectives for your business.
It is important to remember that your objectives should be specific and measurable, as well as carry deadlines for completion.
The most common objective metric is increasing traffic to the website.
What marketing goals do you want to achieve with your website? With targets to assist you in overcoming your most significant online difficulties, you may work smarter rather than harder.
Consider the "grand picture" of your Web site's goal while creating it. It serves as the foundation for a marketing strategy and, in general, addresses the following questions:
"How can I utilize this site to address the most significant Internet-related difficulty facing my company?" Alternatively, you may ask, "What is the goal of my website?" When creating marketing goals, take in mind your site's business strategy as well as the phases of decision-making that clients go through.
Models of Organization for Your Website Marketing Objectives
If you are in charge of marketing for your business, you should have a clear understanding that there are many models of organization to choose from when setting up your website. One way to go about this is to start with the channels you want to use, which are mainly social media and search engine optimization. From there, it's not hard to figure out the type of content you need, how much time it will take, and so on.
Depending on your website marketing objectives, you may need to use a different organizational model. There are many models to choose from, so here are three types of models that work well for most businesses: hierarchical, matricentric, and market centric.
Hierarchical models typically consist of a company with various divisions. This type of organization is excellent for companies whose main objective is maximizing profits and minimizing losses.
Your company's website is your key marketing tool and the first impression most potential customers will get of your company. Making sure that it reflects the best qualities of your company is important, which means you have to be sure to use a model of organization that coincides with those objectives.
A popular model used by many companies is the 4 Ps model, which consists of promotion, product, price and place.
The business model describes how your Web site fits into your organization's overall operations – specifically, how it will aid in the growth of your firm. Direct income is a common business strategy for websites, but it is not the only one available. Some business models are as follows:
Online sales and direct revenue are two examples of direct revenue.
Some of the most well-known Web site aims have to do with e-commerce or other forms of direct money generation from the site. In other words, the goal is to generate a direct stream of money through orders or advertising space on the website.
– Enhance your company's image
A long-term marketing purpose for your website might be to increase sales by establishing a positive image of your product, brand, and/or organization in the public eye. This is becoming an increasingly clear objective for huge corporations with substantial resources.
Small-budget businesses might emulate this model on a more economical scale by establishing an image over the course of their normal marketing activities. If you want to do this, you should display consistent design components and "personality" at each point of interaction with the outside world – regardless of whether that contact is virtual or real.
• Improve the quality of customer service
By increasing customer service, your website may generate more income in the long run. Customers that are happier with your items are more likely to spread the word about your products and to purchase from you on a regular basis.
Customers often do product research on a Web site before placing purchases via a catalog, telephone, sales personnel, a real retail shop, the mail, and/or faxing the results. In all of these instances, a Web site indirectly helps to the growth of the company's operations.
– Lowering of Operating Expenses
A Web site may benefit your company by cutting operating expenses. Customer service tasks that are automated – such as Web-based FAQs, order progress reports, product specs, and so on – may reduce the quantity of customer care calls, hence lowering customer service labor expenses.
It is also possible to reduce operational expenses by expediting contact with your business partners via the use of the Internet. A secure Web area may be created by business-to-business enterprises to facilitate communication and collaboration with clients.
In fact, it is feasible to create separate, private webpages for high-profile clientele. A central "meeting place" that archives conversations and other customer-specific information may reduce administrative expenses associated with "phone tag," queries, and/or the need to intentionally keep all participants "in the loop," all of which can reduce overall costs of doing business.
Providing essential suppliers with online access to your inventory or other real-time information might help you avoid expensive business interruptions on the supply side.
Customers go through four stages: awareness, interest, trial, and repeat purchase.
Considering the stages of marketing awareness, interest, trial, and repetition may be helpful when determining your marketing goals. Often employed in marketing, these ideas are intended to illustrate the steps that a new client (or site visitor, in this example) goes through on the way to becoming a devoted customer to your company.
First and foremost, the prospective visitor must become aware of your website. Once a prospective visitor has become aware of your existence, you must pique her or his curiosity, prompting her or him to try your product or react to a call to action on your website. After (s)he views your website, that individual gets devoted to you by returning to it again and again.
You may find that concentrating on one or two of the following: awareness, interest, trial, or repeat visits, and then shifting your emphasis over time, is the most successful way to grow your company. If your site is brand new or just known to a small number of people, for example, your strategy is likely to focus on strategies to raise awareness and interest in your product or service.
If you get an unusually high number of "window shoppers" – people who never make a purchase – you may want to put more emphasis on piqued curiosity and trial (or do not respond to some other call to action).
Also consider emphasizing recurring sales if you offer many goods or if you sell a product that has to be replenished on your website.
Making a List of Your Marketing Objectives
The first step in creating any marketing plan is to make a list of all your objectives. This will help you stay organized and focused on the goals that are most important to you. It will also provide an easy-to-reference list when it comes time to put together your marketing plan's outline.
It is important to make a list of your marketing objectives to help you know what you are trying to achieve.
Marketing objectives are necessary in order to grow your business. They help with the decision-making process, clarify company goals, prioritize efforts, and measure success. Prioritizing these objectives will allow you to focus on the most important things first, and then shift to other issues as they arise.
The best way to get your company off the ground is by having a clear marketing plan that you are following. A marketing plan includes both short-term and long-term goals, which should be documented in a list of objectives. The first step to creating this list is brainstorming the different marketing objectives for your company. Once you have identified these objectives, rank them based on which ones are most important to your company's success.
Even though there are a variety of techniques to defining goals, my preference is to design a single purpose for a site that may incorporate more than one strategy to company development.
For each technique mentioned in the site goal, I include unique strategies and tactics in the marketing plan, which are then implemented. Furthermore, in the goal, I'd want to include both the client stage(s) and the business model(s) that I'll be focusing on in the marketing strategy. This makes deciding on the most successful marketing methods much simpler in the future.
Another method is to treat each step of the customer journey independently, in a summary or write-up of the whole process. With either method, you should see your marketing strategy as a living document that changes over time. Your emphasis should shift in response to changes in the business environment and market conditions.
After a new website has been launched, for example, you will be in a better position to assess site traffic, and your strategy may move from focusing on raising awareness and interest to focusing on increasing trial and customer retention and loyalty. In a similar vein, gaining a deeper knowledge of site visitors may prompt you to revise your business model in order to better meet the demands of both your firm and your Web clients.
In conclusion, it is important to have a few website marketing objectives in mind. These should be realistic and measurable so that you know when you have been successful. With these objectives in mind, it's time to get down to the business of marketing your website!
It is imperative that you have some website marketing objectives before going into any marketing campaigns. These can be realistic and measurable so that you know when you have been successful.