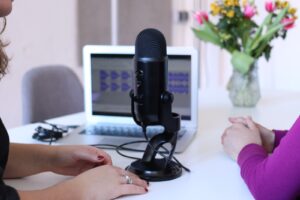 In its basic form, podcasting is simply the relaying of audio information to the medium. Podcasts can be thought of as Internet radio shows. The target audience will be able to listen to articles that are read out loud or maybe watch a live or recorded video. Through podcasting, you can make your recording and then broadcasted to your followers. These followers can find you in a number of online directories or on websites that are well known for containing podcasts.
There are a few terms that you need to familiarize yourself with a few are going to attempt podcasting. One of those terms is pod catcher. This is a type of software that when a podcast is published, the software will publish the podcast and deliver it to whoever has subscribed to it. Another tender beef night with his RSS. RSS stands for real simple syndication. This is simply a share filing solution that allows people to publish or syndicate your content on their own website. Also, you can use RSS in order to syndicate publish other people's podcasts on your own website.
A channel is simply a series of podcasts kind of like a radio station, only this type of channel can be listened to on demand. And enclosure is a file for your podcast the enclosure contains the file that has a podcast that will be listened to by your followers. ID3 is another term, and it is a metadata specification. It allows for data to be added to the podcast through MP3 files. ID3 will have tags that contain the artist and album, as well as the title track and track number.
Some of the items that you will need in order to start podcasting are a good microphone, the software that is required in order to record your audio file, and someplace to store that audio file. Preferably, you will be able to store your audio file in a place that makes it handy for other people to access it, but only when you want them to. One of the software is that you might want to take a look at is called audacity.
Next thing that you want to do is decide on a niche. It is very important that this be something that not have some knowledge of. Most of the time, this topic will have something to do with solving problems. A typical situation would be where your listeners have a problem that you have an answer to, and you will use your podcast in order to describe them how to go about dealing with this particular problem. Just remember that you are an Internet marketer, so your end goal is going to be to try to sell these people a solution to their problems.
After you have decided on a topic to discuss in your podcast, and you have moved on to the production phase of your podcast, it is then time to investigate how to get your podcast to market. One of the more popular platforms is iTunes, but there are many others to choose from. You can even sell your podcasts on your website. If you use your imagination, you can probably find a way to add podcasting into your bag of tricks when it comes to Internet marketing.