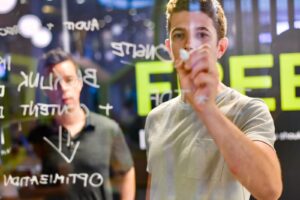 The obvious objective of SEO (search engine optimization) is to get your webpages listed in the top of the search engine results. Anything that you do to your website in order to garner a higher listing on Google and other search engines can be considered SEO. One of the main things to remember is that Google and other search engines do not want you to have the ability to be listed at the top of the search engine results pages if your website is not deserving. It is their goal to make sure that only those websites that are considered valuable get listed near the top.
In the old days, it was possible to game the system and use search engine optimization in order to quickly get the pages of your website's ranking for just about any keyword that you chose. These days it is not so easy. However, search engine optimization is not completely dead and is still something that is important to pay attention to in Internet marketing.
The first part of SEO is choosing the right keywords. Unless you have very deep pockets, it can be nearly impossible to rank highly for the most searched keywords. Therefore, many Internet marketers choose to target low volume keywords or keyword phrases, as these are easier to rank highly for. You should plan on spending a considerable amount of time on keyword research before you even attempt any other type of search engine optimization techniques.
The search engines are constantly looking for websites that are trying to game the system. Things like long URLs stacked with keywords, repeating keywords in text, paying for links to your website and anything else that appears to be unnatural can get your site either de-indexed from the search engine results or at least devalued. This means that when people go to find whatever it is that you are pushing, they will have to go further and further down the search results in order to find your website. In search engine optimization, the goal would be to have your web site rank on the first page of search engine results for your chosen keyword.
Search engines favor websites that have lots of high-quality content and provide actual value to the user. One way to show that your website provides value to the user is to have a ton of content on your site. For instance, if your website is about widgets and one of your webpages is about blue widgets for babies, you will want to have the keywords "blue widgets" and "babies" sprinkled throughout your page and make it look natural to do so. Also, you will want to link out to any other high-quality websites that happen to be related to "blue widgets for babies" or at least "widgets" in general.
Modern day search engine optimization is all about creating high-quality websites with high-quality content. If you focus 90% of your attention on simply providing your users with useful content, then eventually, your webpage will naturally show up somewhere in the search engine results for your chosen keywords. However, there are a few things that you can keep in mind while you are writing your content.
The software that goes out to websites and scans them for content is called a search engine spider. These search engine spiders will look for keywords in the content of your webpages. In fact, they will look for keywords in specific places in the content of your webpage. Important places to include keywords are in the webpage or website headers, the first couple of paragraphs of the page, and also the concluding paragraph of the page. It also doesn't hurt to have the keyword somewhere in the URL and also sprinkled throughout the alt tags for the images contained within the post or page. Just don't over-do it.
Another thing that can be important in search engine optimization these days is grammar. You will want to check over your content carefully to make sure there are no mistakes in the articles that you create. There are many aspects of search engine optimization that you need to pay attention to, and avoiding silly typos in your content should be a no-brainer.
Your webpage can be ranked higher in the search engine results if you create useful high-quality content and, in turn, that content is linked-to by other websites that are considered to be high-value. Also, it does not hurt to link out from your webpage to other high-quality sites that have the same genre as the content that you create for your own website.
If all else fails, just make it your main consideration to try to deliver high-quality content to your users on a consistent basis, and you should do okay. Keep in mind that the main goal for search engines is to provide the best content to their users and in order to do that, they need to figure out which content is the best out there. Try to work with the search engines and not against them!