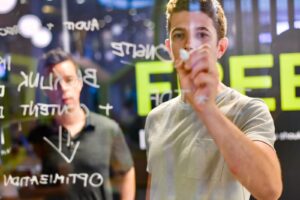 The most apparent purpose of SEO (search engine optimization) is to increase the visibility of a website by moving it closer to the top of the list of results returned by a search engine. Search engine optimization, or SEO, is the process of making your website better so that it ranks higher on Google and other search engines.
Remember that Google and the other search engines do not want you to have the opportunity to be featured at the top of the search engine results pages if your website is not worthy of such a placement.
This is one of the most important things to keep in mind. It is important to them that only websites that are seen as having high levels of value appear in prominent positions on the list.
In the past, it was feasible to cheat the system and employ search engine optimization in order to rapidly acquire the pages of your website's ranking for almost any phrase that you desired. This was achievable since search engine optimization was not as sophisticated as it is now.
Search Engine Optimization is More Complicated Than it Used to Be
These days, it is not as simple as it once was. On the other hand, search engine optimization is not entirely extinct, and it is still something that is essential to pay attention to while engaging in internet marketing.
The first step in search engine optimization is deciding which keywords to use. It may be quite difficult to get a high ranking for the keywords that are searched the most unless you have very significant finances. As a result, many Internet marketers decide to focus their efforts on low-volume keywords or keyword phrases since it is simpler to get a high ranking for them.
Before you even start to engage in any other kind of search engine optimization strategy, you have to make preparations to dedicate a significant portion of your time to doing keyword research.
Don't Try to Manipulate The Search Engine Results
The search engines are always searching for websites that are attempting to manipulate their rankings in order to get an advantage. You may have your website de-indexed from the search engine results, or at the very least devalued, if you do things like have very lengthy URLs that are stuffed with keywords, repeatedly use keywords in the content, pay for connections to your website, or do anything else that seems unnatural.
This indicates that in order for people to locate whatever it is that you are promoting, they will have to scroll farther and farther down the search results before they reach your website. When it comes to search engine optimization, the end goal is to have your website appear on the top page of search engine results for the term that you have selected.
Websites that offer a lot of high-quality information and give genuine value to the user are more likely to rank well in search results. Having a lot of content on a website is one way to show visitors that the site is worth their time.
For instance, if your website is about widgets and one of your webpages is about blue widgets for babies, you will want to have the keywords "blue widgets" and "babies" sprinkled throughout your page and make it look natural to do so.
If your website is about widgets, then one of your webpages should be about blue widgets for babies. You should also link out to any other high-quality websites that happen to be linked to "blue widgets for infants" or, at the very least, "widgets" in general. This is something you will want to do.
Just Focus on Quality Content and You Will Be Okay
Creating high-quality websites that include high-quality content is the central focus of modern-day search engine optimization strategies. If you concentrate ninety percent of your efforts on just offering the information that your readers find beneficial, then at some point in time, your website will organically appear someplace in the search engine results for the keywords that you choose.
Nevertheless, as you are producing the content for your website, there are a few things that you should keep in mind.
A search engine spider is a piece of software that navigates to different websites and crawls them in order to index their information. These spiders from search engines will scan the content of your websites in search of certain keywords. In fact, they will search for the keywords in certain locations across the content of your website.
Pay Attention to Your Website Headers
The headers of the webpage or website, the first couple of paragraphs of the page, and even the paragraph that concludes the page are all important areas to incorporate keywords. It is also not a bad idea to include the keyword in the URL of the post or page, as well as to include the phrase in the alt tags of any pictures that are included in the post or page. Just don't overdo it.
Grammar is another factor that may play a significant role in search engine optimization in the modern era. You are going to want to do a comprehensive read-through of your material in order to ensure that the articles that you generally do not include any errors.
When it comes to search engine optimization, there are a lot of different things that you need to pay attention to, and eliminating foolish mistakes in your text should be an obvious priority for you.
High-Quality Website Content Always Wins Out
If you produce material that is both valuable and of high quality, and if other websites that are seen as having high value connect to that content, then your webpage will have a better chance of ranking higher in the results provided by search engines.
It is also not a bad idea to link out from your webpage to other high-quality websites that have the same genre as the material that you publish for your own website, since doing so will not affect your website's rankings.
If nothing else works out, your best bet is to make it your top priority to provide consistently high-quality material to the people who use your site. If you can do that, you should be OK.
Bear in mind that the primary objective of search engines is to give the finest material to their consumers, and in order for them to achieve this objective, they need to determine which content is the best information that is currently available. Make an effort to collaborate with search engines rather than compete against them.