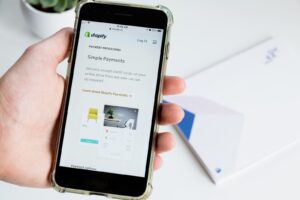 Shopify is a well respected, trusted, and user-friendly e-commerce solution for Internet marketers. You can easily get your account set up and then shortly after that you will be uploading your products to your store. Right after that, you can go ahead and start selling. The Shopify platform offers pretty decent pricing, and they take care of shipping solutions and payment gateways for you, so there is not a whole up to worry about. The company is based in Ontario, Canada and was founded in 2004. They currently have hundreds of thousands of merchants using their platform.
Shopify is an e-commerce software program that can allow you to have the ability to easily build an online store. When you choose to use shop at five, you no longer have to worry about designing and in e-commerce store yourself. Therefore, you don't need to worry about having your own shopping cart or buy buttons, and even the product pages themselves can be automated. If you have ever set up a WordPress website, then you probably won't have any problem setting up your Shopify website. It is all straightforward and fairly simple.
Normally, starting an e-commerce website can cost you thousands of dollars. Just the website and store design costs can end up costing you a small fortune. One of the reasons for this is that you would need a web designer who can not only make a great looking website, but also one who knows how to program the backend so that all the e-commerce functions will work flawlessly.
One of the things that you'll have to worry about when you first get started with Shopify is choosing a site design and then customizing your website so that it looks and feels how you want it to. Just choose a scene and then start adding information about your site and also, of course, the products that you are wanting to sell. The potential for income is unlimited, but in the end, you will get out of it what you put into it. Just choose one of the tiers of service and get to work.
When you go with Shopify, you'll be getting a web store where all the bugs have already been worked out for you. The template that you will be using has already been reworked and redesigned over the years so that it will work perfectly and have all the most important features that most e-commerce marketers would want included. Shopify includes a very intuitive program so that shortly after logging in you will be able to get started with building your store right away. Just start customizing your design and adding your products.
One of the many benefits that are included with the Shopify platform are the built-in analytics. Studying these analytics can tell you exactly what is going on with your store. You will see where the customers are coming from and what keywords they are using in order to get to your store. Analytics can also allow you to see how long customers stay on your store. You can use all this information so that you can tweak your site and your marketing efforts in order to get more customers and a better return on your investment. This is considered to be half the battle when it comes to e-commerce marketing.